Support Our Work!
The Pacific Institute is celebrating 25 years dedicated to protecting our natural world, encouraging sustainable development, and improving global security. But we can't do this important work without help from people like you!

The Pacific Institute celebrates its 25th Anniversary throughout 2013! That's 25 years of groundbreaking, highly-respected independent research and focused action that have made the Institute one of the world's leading, trusted, and influential voices advancing environmental protection, economic development, and social equity – a place where science-based solutions lead to social and political change. For a bulleted list of our highlights from 2012, click here.

Your support is what makes this work possible. Please contribute and help us continue to produce research and solutions that MATTER, and to go with solid analysis to the places where the decisions are happening and push for sustainable solutions and policy.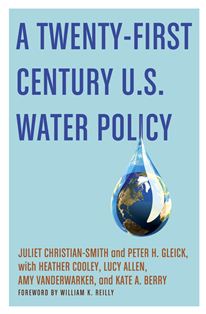 A gift of $100 or more - by an individual or an institution - carries the designation of Institute Associate, and allows us to send you a copy of our new book, "A Twenty-First Century U.S. Water Policy." Major donors are invited to contact us for more information.
Donations to the Pacific Institute are tax-deductible and we never sell or trade personal information. You may make a donation online (by clicking the orange button on the right) or by mail with a check made payable to the Pacific Institute, 654 13th St., Oakland, CA 94612.
Join today and help us keep our research accessible while we defend the public interest and work to create a more just, secure, and sustainable world.
The Pacific Institute is a
non-profit organization and all donations are tax-exempt. Our Tax ID number is 94-3050434.