The World's Water, Vol. 7 Now Available
For more than a decade, the biennial report The World's Water has provided key data and expert insights into our most pressing freshwater issues.
The World's Water Vol. 7

"There are few books that can genuinely be described as indispensable. This is one.... Essential reading." -Financial Times
Global Water Report
Many places may be reaching the point of "peak water" – and to conserve this critical resource without harming the economy or public health, businesses, communities, governments, and individuals need new techniques to move to sustainable water management. The World's Water, Vol. 7 delivers analysis for developing those techniques, addressing:

▪ Reform of U.S. water policy, including economic approaches, decentralized decision-making, and stakeholder participation;
▪ Risks for businesses that do not manage their water resources responsibly;
▪ Impacts of climate change on transboundary water resources and agreements;
▪ The effects of fossil fuel production on water quality;
▪ Regional and worldwide impacts of China's dam policy;
▪ The lessons of Australia's prolonged drought; and
▪ Newly updated data on international water quality.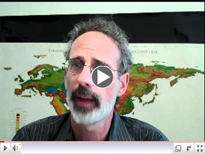 -View selected chapters and data tables.

-Order directly from Island Press.
Pacific Institute President
Dr. Peter Gleick talks about
The World's Water, Vol. 7.